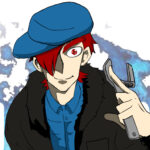 MENA
Hi, I'm Mena (@menachite),a hybrid engineer who does both mechanical and electrical work.
It's been a while since I made a big (in terms of money and size) purchase.
It's a Tuff System carrier from DeWalt!
I had to check out a lot of videos, etc. to make sure it was available at home centers.
It had a good reputation, so I didn't hesitate to buy it.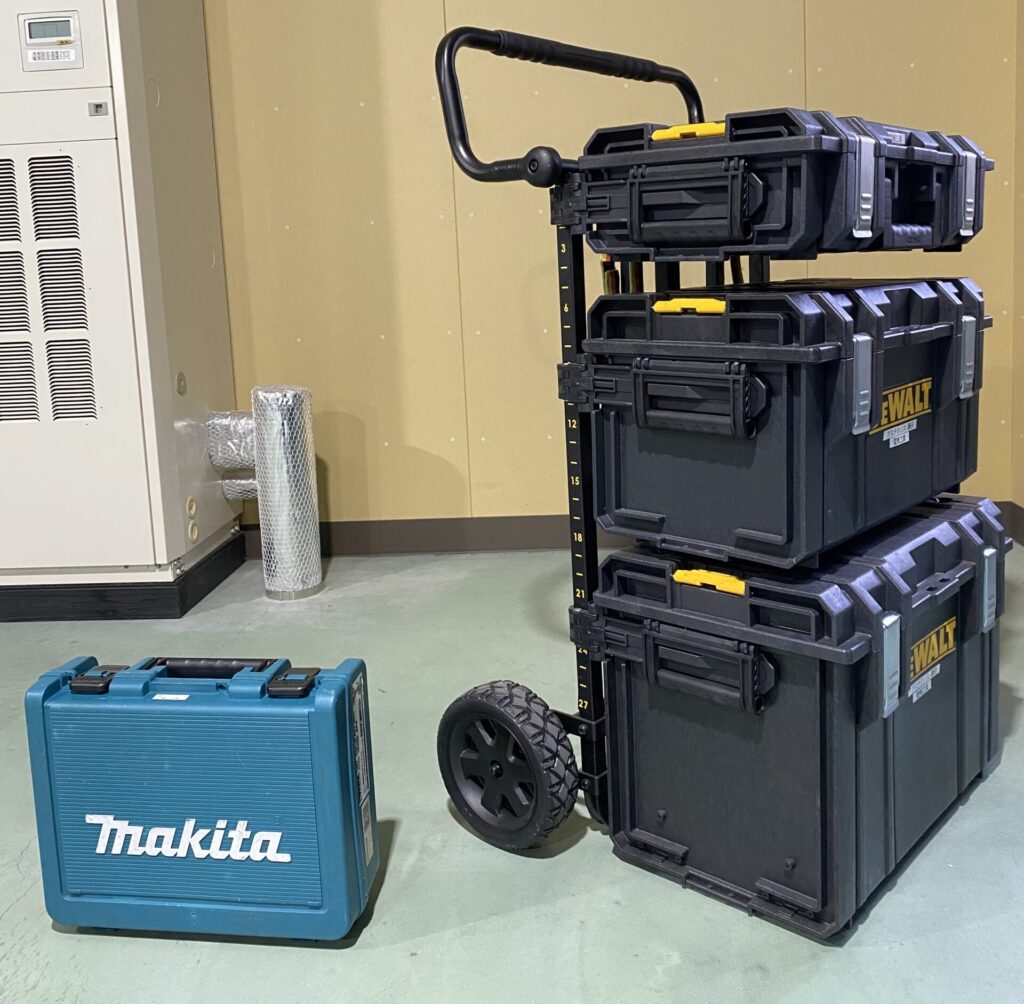 It's huge! Just huge!
The Makita rechargeable drill case is next to it, but you can see how big Dewalt's tool box is.
It can hold a case of a rechargeable drill.
I work in the manufacturing industry, assembling electrical and mechanical equipment.
After working in this industry for many years, the number of tools inevitably increases, and I found myself with more than I could carry on a cart…
After examining various tool boxes, I chose the Dewalt tool box, which is a good match for my work in terms of ease of use.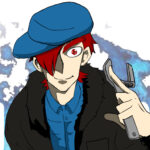 MENA
In this issue, we will take an in-depth look at Dewalt's Tough System. As a "Made in Israel" brand, it is packed with features that are as good as military-standard ones.
Product Specs
The Tough System Set consists of four units. They are a cart and three tool boxes.
Each tool box is equipped with a sealing device that keeps it airtight inside, so it is not affected by changes in air pressure or temperature, and it is water-resistant.
DS Carrier (Cart)
リンク
| | |
| --- | --- |
| DS Carrier (Cart) | |
| model | 1-70-324 |
| Size(mm) | H1100×L530×W690 |
| Weight | 14.7kg |
| Load-capacity | 120kg |
Review
The good thing about this DS carrier is that it looks quite sturdy and has a nice look and feel.
The tires are large enough to make it easy to go on rough roads.
Comparison with the author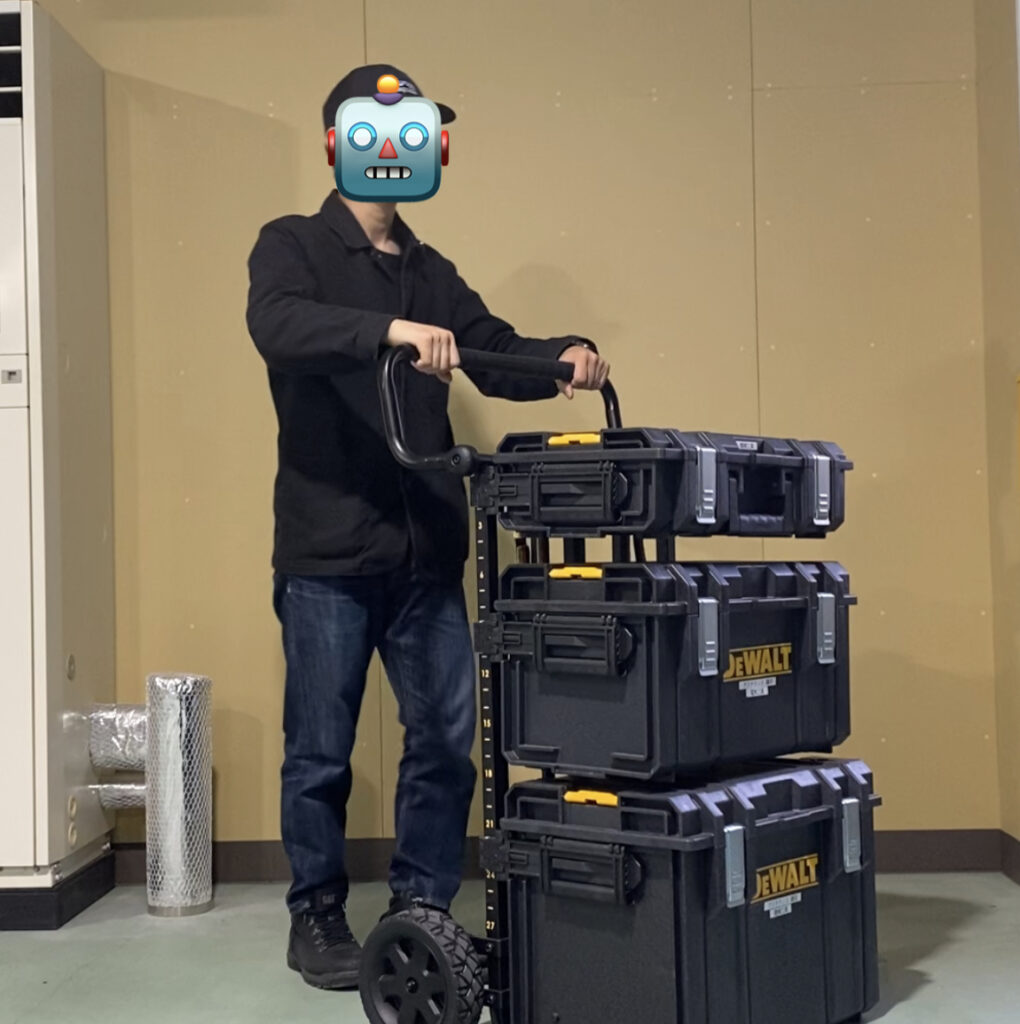 This is the carrier photographed alongside me.
The handles are rubberized and easy to hold, and the locking mechanism of the tool box and the lock can be attached to prevent theft. It is very detailed and well thought out.
The key point is that the tool box can be slid out so that the desired tool box can be quickly retrieved.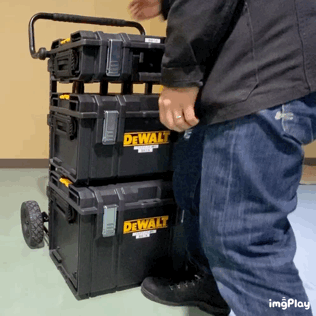 There is another product from the same manufacturer that looks like a carrying case, but this carrier is by far more convenient because it can be removed from the middle of the case. Once you use it, you will never go back.
It also has a foldable steel plate that can be used to carry heavy supplies.
Tool box (small)
リンク
Review
| | |
| --- | --- |
| Tool box (small) | |
| model | 1-70-321 |
| Size(mm) | H159×L337×W549 |
| Inside (mm) | H105×L282×W485 |
| Weight | 4.2kg |
| Load-capacity | 30kg |
The box in the picture does not come with it lol.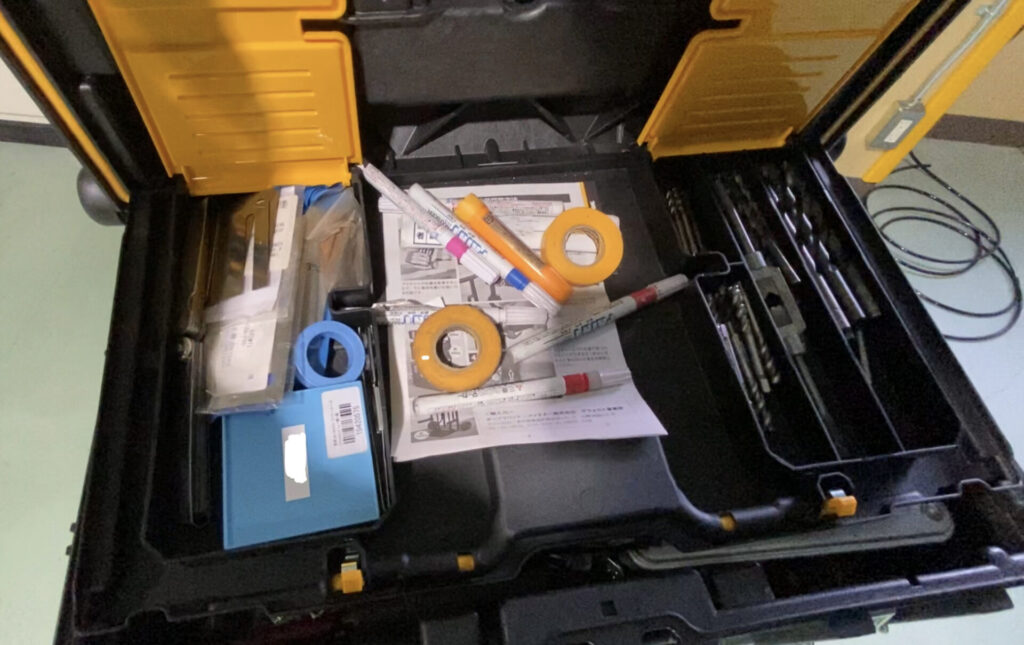 Only this toolbox has a hidden storage space behind the lid to store small items such as a sharpener and pens.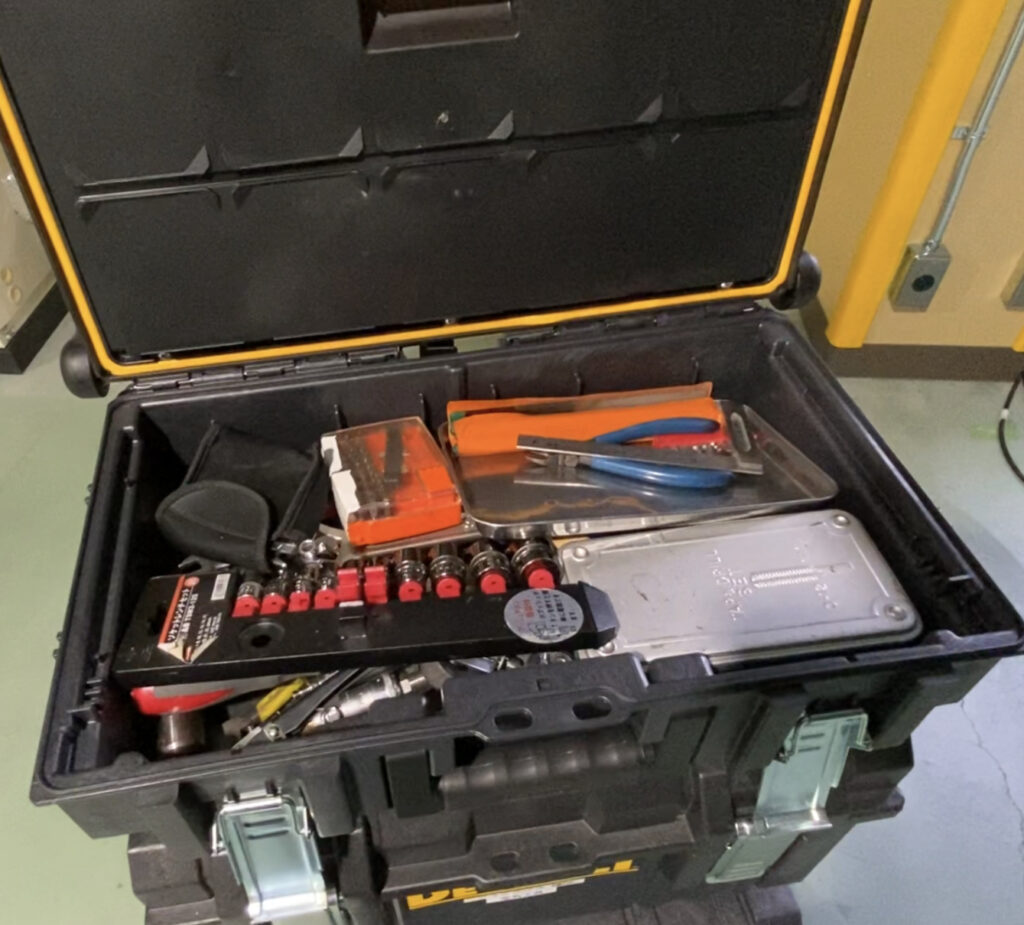 After closing the lid, the inside looks like this.
I use this tool box to store a set of tools for mechanical work.
Tool box (medium)
リンク
| | |
| --- | --- |
| Tool box (medium) | |
| model | 1-70-322 |
| Size(mm) | H308×L337×W549 |
| Inside (mm) | H230×L275×W490 |
| Weight | 4.8kg |
| Load-capacity | 40kg |
Review
It is a convenient size for carrying around.
The tray inside is removable for convenience.
It can be used for all purposes, but its size is a little insufficient for storing power tools.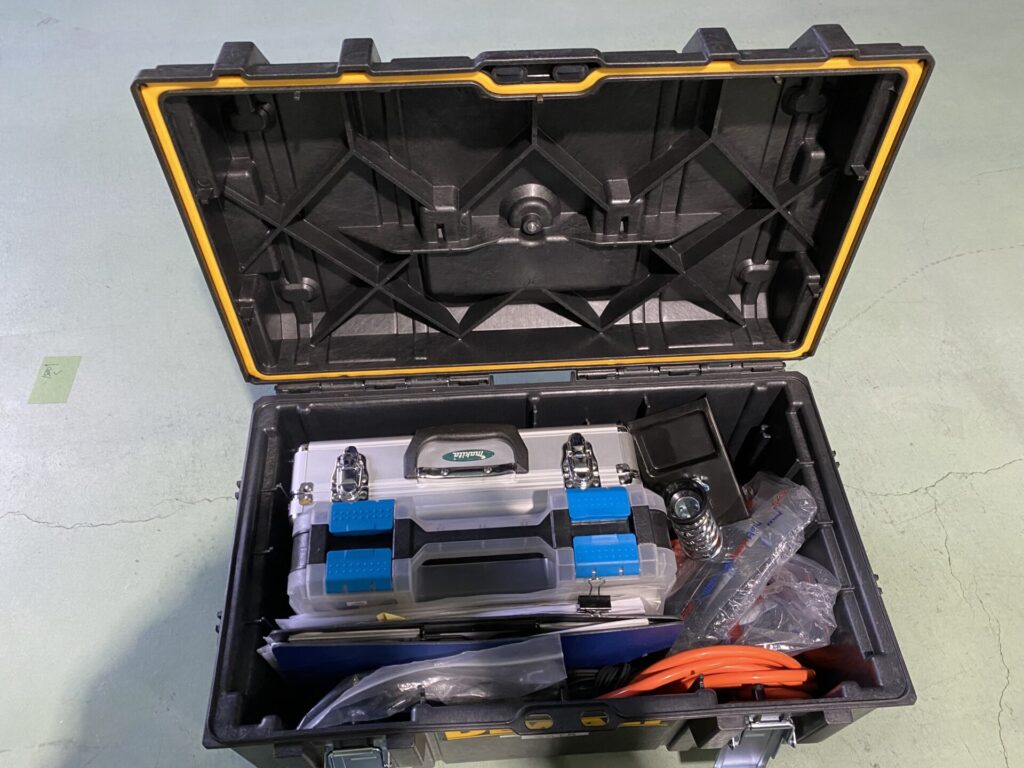 If you remove the tray inside, you can increase the storage capacity, so there is plenty of room for drills. It is also a good point that you can change it depending on how you use it.
Well, compared to a regular tool box, it has excellent storage capacity.
I use it to store the tools I use for electrical work.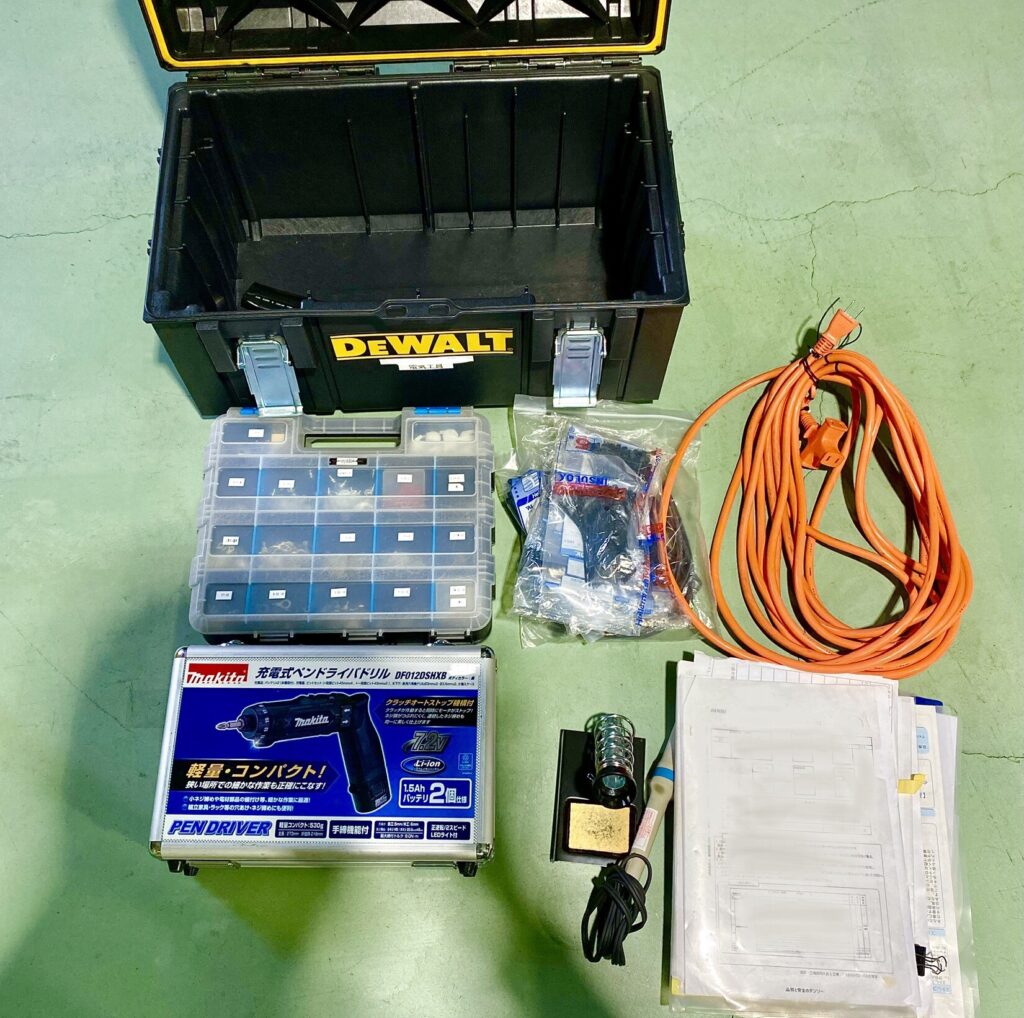 充電ドライバーはケースごと入ります。ハンダゴテとパーツボックス、仕事の書類、延長コードといった道具が綺麗に収納できます。
Tool box (large)
リンク
This is the largest toolbox in the series.
| | |
| --- | --- |
| Tool box (large) | |
| model | 1-70-323 |
| Size(mm) | H406×L371×W549 |
| Inside (mm) | H330×L280×W490 |
| Weight | 6.0kg |
| Load-capacity | 50kg |
Review
It can easily hold power tools and is large enough to hold any tool.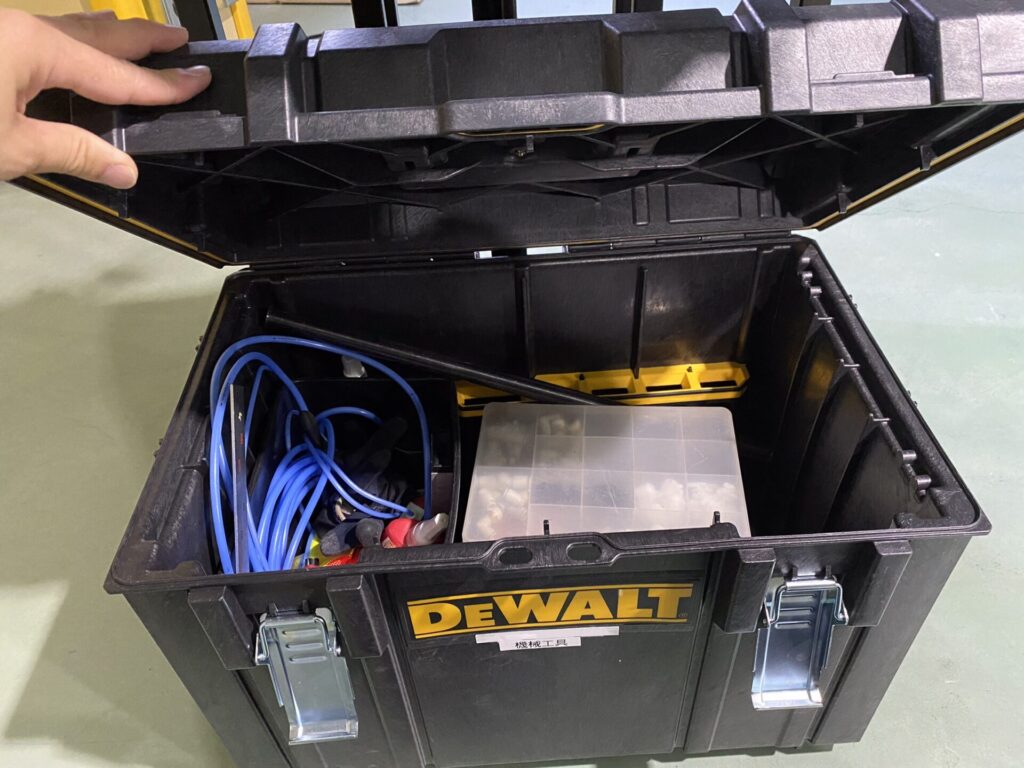 I store a jigsaw, a rechargeable drill, five parts boxes, consumable sprays, and construction equipment in it.
If I fill the space completely, it will be a problem if I want to put something else in there.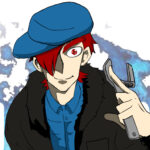 MENA
Some people were bold enough to use it to store compressors in it.
The wide range of uses by each person is possible only with this size.
Actual Operation
It would be difficult to carry such a large tool carrier out to the job site without hesitation.
Therefore, we carry the boxes containing the necessary tools on a cart to the site and leave the Tough Carrier at the factory.
This is what it looks like when we actually take it out.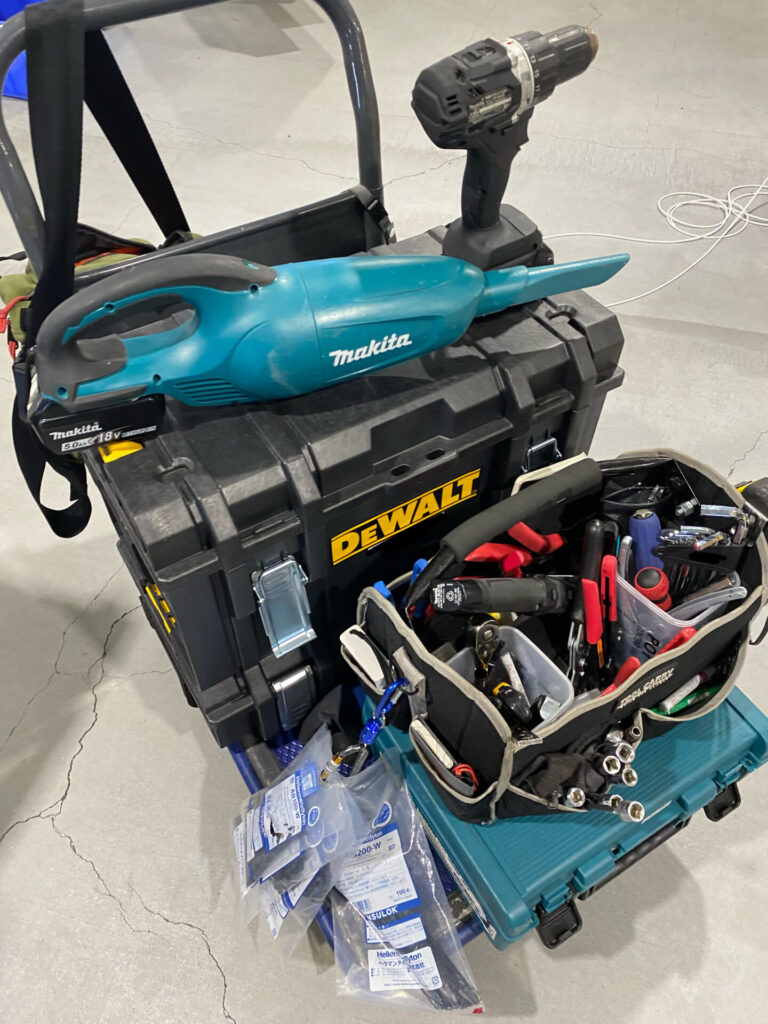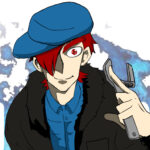 MENA
It is also important to note that I no longer have to put together every single tool I need.
Toolboxes can be docked together
The toolboxes are notched to allow toolboxes to be docked together.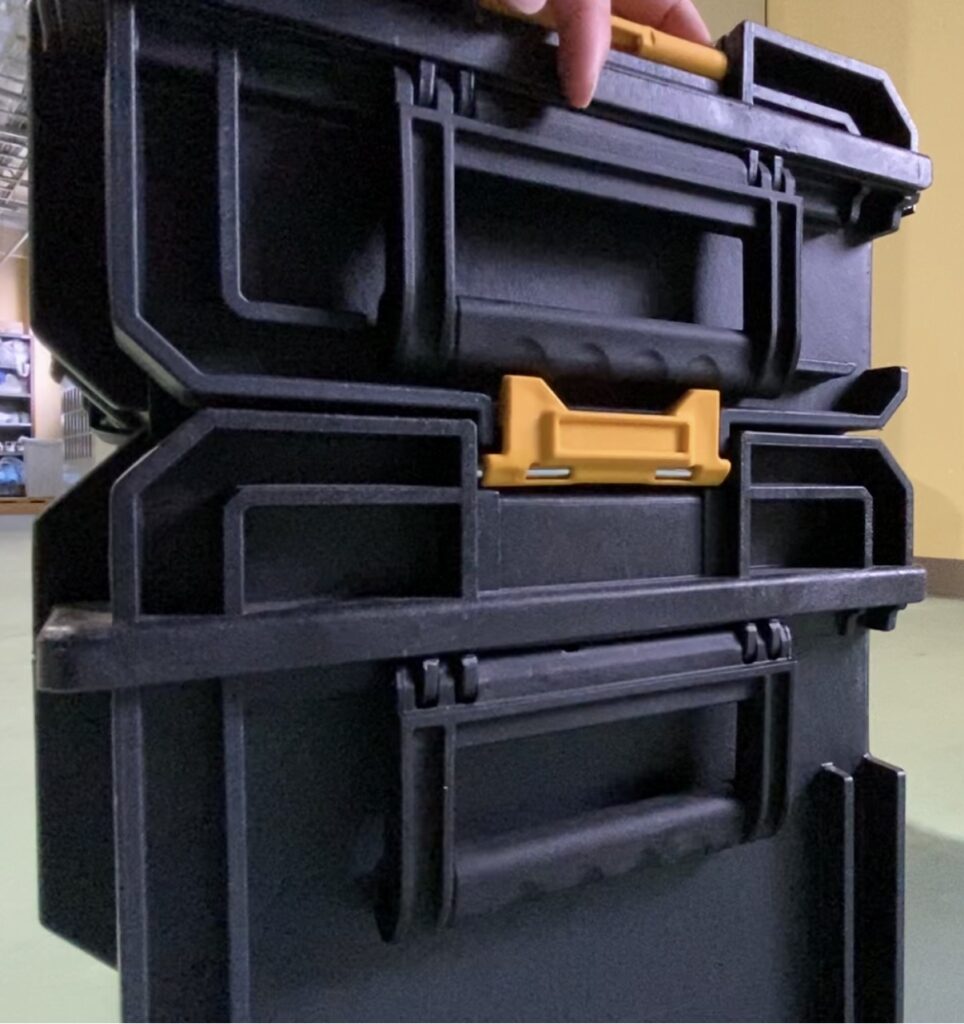 It is mainly effective in preventing cargo collapse and provides a sense of security during transportation.
Connected tool boxes can be lifted in the connected state.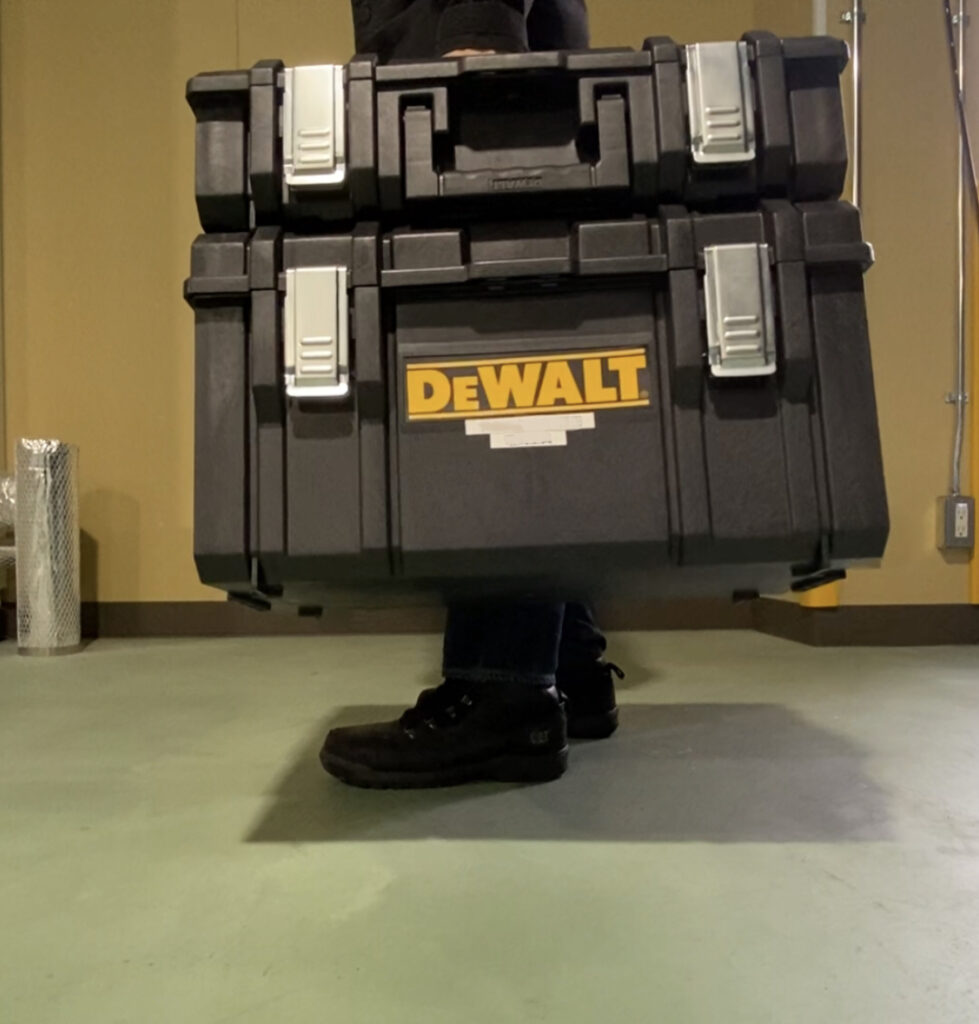 However, docking everything together would be extremely heavy, so in my case, I see its use as stabilizing the product during transportation.
For an improvised work desk.
If you want to work on a computer in the field, you do not need to bring a separate desk, you can use the Tough System instead.
A small toolbox can be used as a desk and a large toolbox as a chair.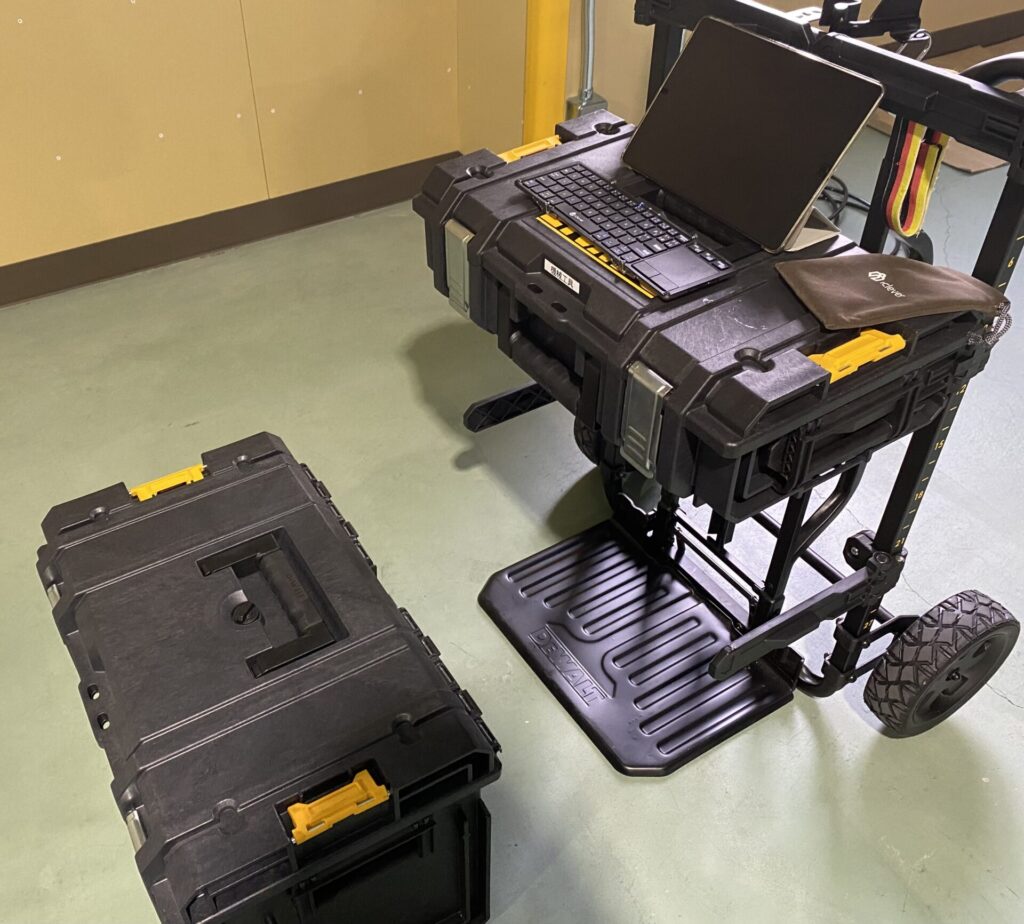 Notes.
When opening the tool box, the tool box attached to the carrier cannot be fully opened except for the one set at the top.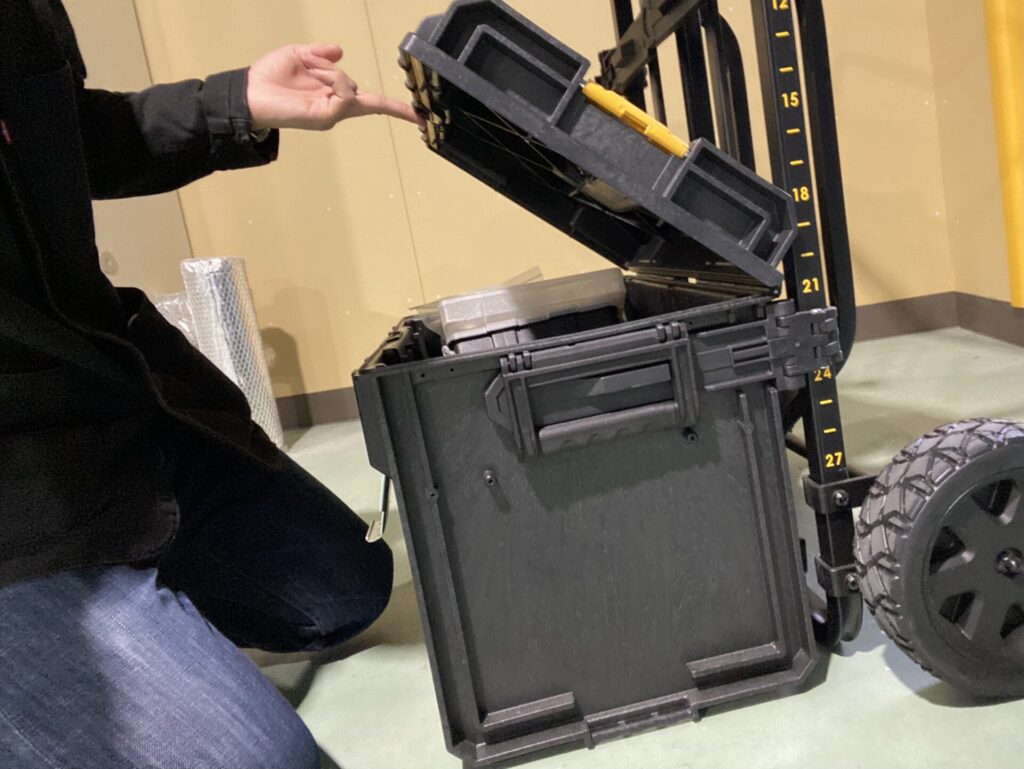 Therefore, it is necessary to remove them one by one or shift them forward a little.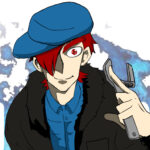 MENA
This is a very troublesome and complicated process.
Anti-theft measures are also in place.
The Tough Carrier has a locking mechanism to prevent the tool box from popping out easily and to lock the tool box so that it cannot be taken out without permission.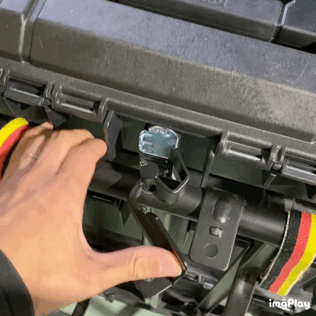 It is an excellent toolbox theft prevention device that can protect three toolboxes with a single lock.
If the entire carrier were to be taken away, it would be a disaster, but since it weighs nearly 100 kg when fully loaded, it would be extremely difficult for a single person to carry it out.
In this respect, it is a very powerful anti-theft measure.
related product
There are other products compatible with the Tough System besides this set.
organizer
リンク
| | |
| --- | --- |
| organizer | |
| model | DWST1-75522 |
| Size(mm) | W549×D350×H115 |
| Inside (mm) | W460×D270×H75 |
| Weight | 3.3kg |
| Load-capacity | 50kg |
This organizer can be mounted on the Tough System.
It is sized to easily hold larger parts.
Tote type tool box
リンク
| | |
| --- | --- |
| Tote type tool box | |
| model | DWST1-75522 |
| Size(mm) | W549×D350×H275 |
| Inside (mm) | Wt49×D350×H250 |
| Weight | 2.85kg |
| Load-capacity | 20kg |
A tote-type tool box with large handles, useful for carrying a variety of items in a hurry.
It is a tough system size, though, so it's a bit big.
2 drawer
リンク
| | |
| --- | --- |
| 2 drawer | |
| model | DWST83529-1 |
| Size(mm) | W549×D350×H364 |
| Inside (mm) | |
| Weight | 8.92 kg |
| Load-capacity | 20kg |
Tool box with drawers.
It is useful for neatly storing tools and other items. It seems to be suitable for permanent use rather than for carrying around.
It has the potential to be used as a simple toolbox.
summary
リンク
The Dewalt Tough System set was an overall satisfactory product.
I think the high expandability of the product raises its value to a higher level.
There is also a wall-mounted rack that can hold the Tough System toolbox, which, when combined with the Tough System toolbox, will create a powerful work environment.
リンク
If you are looking for a large and expandable tool box, I can recommend this tool box.
We hope this article will be helpful in selecting a tool box.
Related Articles